CertisID™ Financial Services Biometric Identification Solution
Is a complete solution for financial and banking industry to avoid and track the identity and fraud which is a major concern now a days in all over the world. The system is capable to help the Banks/Organizations to enroll a new Visitor through their Biometric data where with the existing system, there isn't any validation for Non-Account Holders which can be resolved by CertisID very efficient.
With CertisID, the system can be available to enroll & track for:
Account Holders
Non Account Holders
Employees
The system will not only ensure whether a genuine customer is doing transaction against his/her account by biometric identification but also record all non-account holders into the system to track their activities through built in AI functionality within CertisID. Also, the Employees will be accountable for their activities through the system if Single Sign On solution is added besides the CertisID system. 
Banks/ Financial Institutions
How the solution can be used
It can be used as a finished product which will run in parallel with existing banking solutions
It can be integrated with banking solution via web-API
Authorize local Identity agencies to collect data Criminal records from entire country and also share with the Participating Institutes/Banks who are deploying CertisID solution.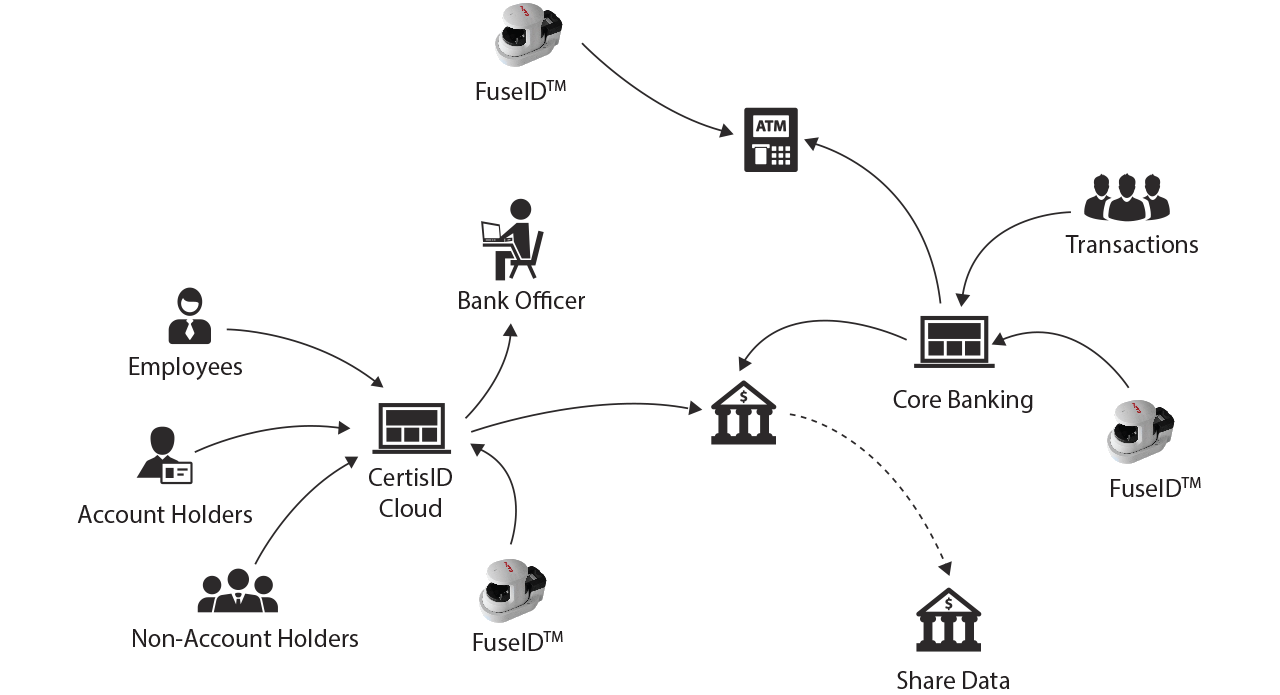 Account Holder Tracking with biometric data
Employee Tracking with biometric data
Fraud detection from Transaction/Loan history
High speed multimodal biometric matching available
Completely Customizable Solution
Web based rich client interface
Adding, editing, searching demographic data
Adding, modifying, identifying biometric data
User friendly, interactive, dynamic and user specific dashboard with different types of analytics.
Activity/Log management
Very easy to use Reporting tool to create, edit and generate different types of reports
Role based user management and their access privileges for both the user interface and the records stored in the system
All types of user activity logging and monitoring
Multimodal biometric supported
Biometric device management facility to allow specific model/type
Multilingual support for any Unicode supported language
Facility to interface with any third party software or Integrate with existing Banking solutions like Infosys Finacle or Oracle FLEXCUBE
No Server/Database deployment required by the client organization
No Backup policy required by the client organization
From any client machine can be used as a web-application on the go
Web based rich client interface provides a very interactive and seamless user experience
Our enhanced customization engine allows to include any demographic field at any time even after the project live.
Biographic data search engine allows very fast and accurate data retrieval which also supports fuzzy searching
For biometric data capturing all types of required device drivers will be automatically downloaded and configured to client workstation. So no technical assistance will be required to launch a new workstation.
Graphical presentation of different types of analytics in the dashboard will give a very quick overview of system data. Our dynamic dashboard engine will allow administrator to add/modify any types of analytics with different types of graphical presentation at any time.
Using our extensive reporting tool you will be able to create/generate a varieties of reports and it will also allow you to export those reports directly in different type formats such as PDF, XLS, XLSX, CSV, XPS, HTML, TXT, RTF and so on.
User management will allow the administrator to manage users very easily and effectively. Administrator will also assign a particular to have access a particular set of data in a particular region.
Any capture device can be added/managed by the administrator which will not require any technical assistance at the workstations. Works seamlessly with mCloud solution
Technical Specifications
Operating System
System Requirements

 Microsoft Windows XP, Vista, 7 or later

Dot Net framework 4.0
Web Browser: Internet Explorer 8 or later, Google Chrome, Mozilla Firefox 3 or later.

Mac OS X (Intel)

Web Browser: Mozilla Firefox 3 or later, Safari

Android via mCloud app

Android version 2.3 or higher
USB OTG Host Support required for connecting USB readers for Biometric Versions